Socializing Your Puppy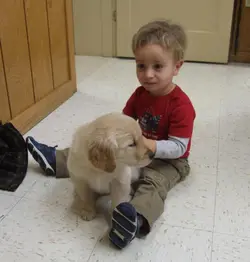 Socializing your puppy is more than just about teaching him to behave at the dog park. It's about teaching your dog how to respond to new and potentially stressful situations in a way that's calm and safe for everyone involved. Socialization can help make trips to the vet and groomer less stressful and
it can help prevent unwanted behaviors like separation anxiety and aggression.

Puppyhood is a very crucial time for puppy's mental and emotional development. In the future we will be offering puppy socialization classes, to help teach puppies and their owners the proper way to fully socialize their new puppy. Puppies will be exposed to new people, friendly dogs, new sights, sounds and experiences.

A properly socialized puppy will grow up to be a well-mannered and excellent family dog.